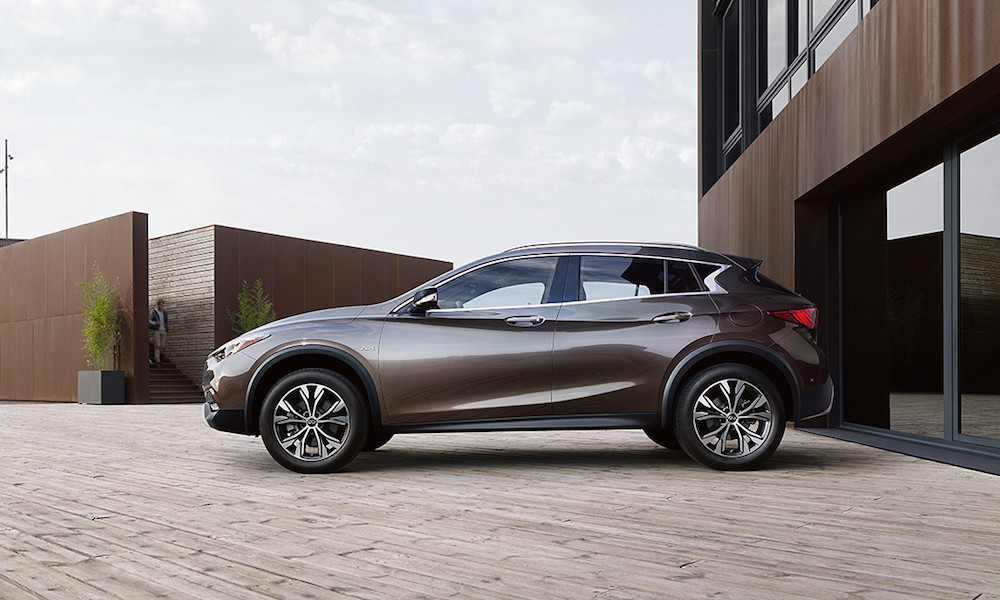 Overview
SUVs are evolving, and INFINITI is on the cutting edge. Introduced last year, the INFINITI QX30 blurs the lines between a crossover SUV and a regular car, embodying some of the best qualities of both. It's quick to accelerate, possesses an appealing design, and offers a premium luxury experience for a relatively low starting price. Furthermore, the QX30 is a great option for buyers who want a luxurious and practical vehicle, but don't want to deal with the thirst and poor road manners of an SUV.
The Perfect Ride for…
Those looking for a sporty driving experience that doesn't cut corners on luxury craftsmanship. Drivers will appreciate the QX30's athleticism over traditional SUVs but will also notice it differentiates itself by its low ride height, unique rear fascias, gloss black grille, and Gun Metallic wheels. In other words, the QX30 commands attention with its cunning performance and stunning looks. On a more practical note, the 2018 QX30 features a rear hatchback design that opens up the cargo capacity over a sedan of similar size, and optional all-wheel drive and raised suspension make it suited for tough weather conditions and light off-road exploration. If you're using the QX30 as a daily driver, you'll be treated to a comfortable cabin crafted from premium materials and a smooth ride, but you'll also have the confidence to take your crossover off the beaten path if the time ever arises.
Drive & Handling
The QX30 is a new type of vehicle for INFINITI. Starting at $29,950,* it combines the all-wheel drive and ride height of an SUV with more car-like handling and styling as well as a more compact footprint. That makes it easier to drive than traditional SUVs and much more frugal at the pump.
The sole powertrain option for the 2018 QX30 is a 2.0-liter turbocharged four-cylinder engine, which produces 208 horsepower and 258 pound-feet of torque. It's mated to a seven-speed dual-clutch transmission with paddle shifters. Front-wheel drive is standard, with all-wheel drive optional. The all-wheel-drive system has the ability to split power 50/50 between the front and rear wheels.
EPA-rated fuel economy is 27 mpg combined (24 mpg city, 33 mpg highway)** with front-wheel drive, and 25 mpg combined (21 mpg city, 30 mpg highway) with all-wheel drive.** These relatively high numbers show the advantage of a smaller crossover utility vehicle like the QX30 over traditional SUVs when it comes to efficiency.
The QX30 has a more interesting background than most other cars. It's the product of a partnership between INFINITI parent Nissan and Mercedes-Benz parent Daimler, so its components come from different sources. The basic platform, engine, and transmission are shared with the Mercedes-Benz GLA-Class, but the all-wheel-drive system—and virtually everything else—comes from INFINITI.
Key Features
Driver Assistance Features
INFINITI navigational and spatial control features help you take control of the road when you need it most. Intelligent Park Assist utilizes 4 parking sensors to maneuver your vehicle into tight parking spaces. All you have to do is shift the gear lever, press a button to confirm, and operate the accelerator and brakes; Intelligent Park Assist will do the rest. Intelligent Cruise Control optimizes your distance and speed with the traffic around you, and Lane Departure Warning uses a camera to monitor if your vehicle is staying between the lines. If you begin to drift out of your lane, the system provides a haptic alert for you to correct your path.
Bose® Premium Audio
An optional 10-speaker Bose® Audio System will transform the way you listen to music. Providing a rich sound that accentuates both high and low notes, the system is so impressive it feels like you're seated in a music hall. Additionally, the QX30 comes with two USB ports so you'll be able to control what you listen to with ease. Whether you're charging your phone or using the ports to access your tunes, you'll appreciate the convenience they provide.
Alternative Options
In the market for something larger? The INFINITI QX60 or QX80 are both great options if you want a traditional SUV with maximum size and space. These vehicles offer plenty of legroom with the performance and design you crave, and they're so comfortable and opulent that they've been likened to yachts on wheels.
Gallery
*Price is Manufacturer's Suggested Retail Price (MSRP). MSRP excluding destination charge, tax, title, license and options. Dealer sets actual price.​
**Based on EPA estimates. Actual mileage will vary with options, driving conditions, driving habits and your vehicle's condition.
Image Credit: INFINITI